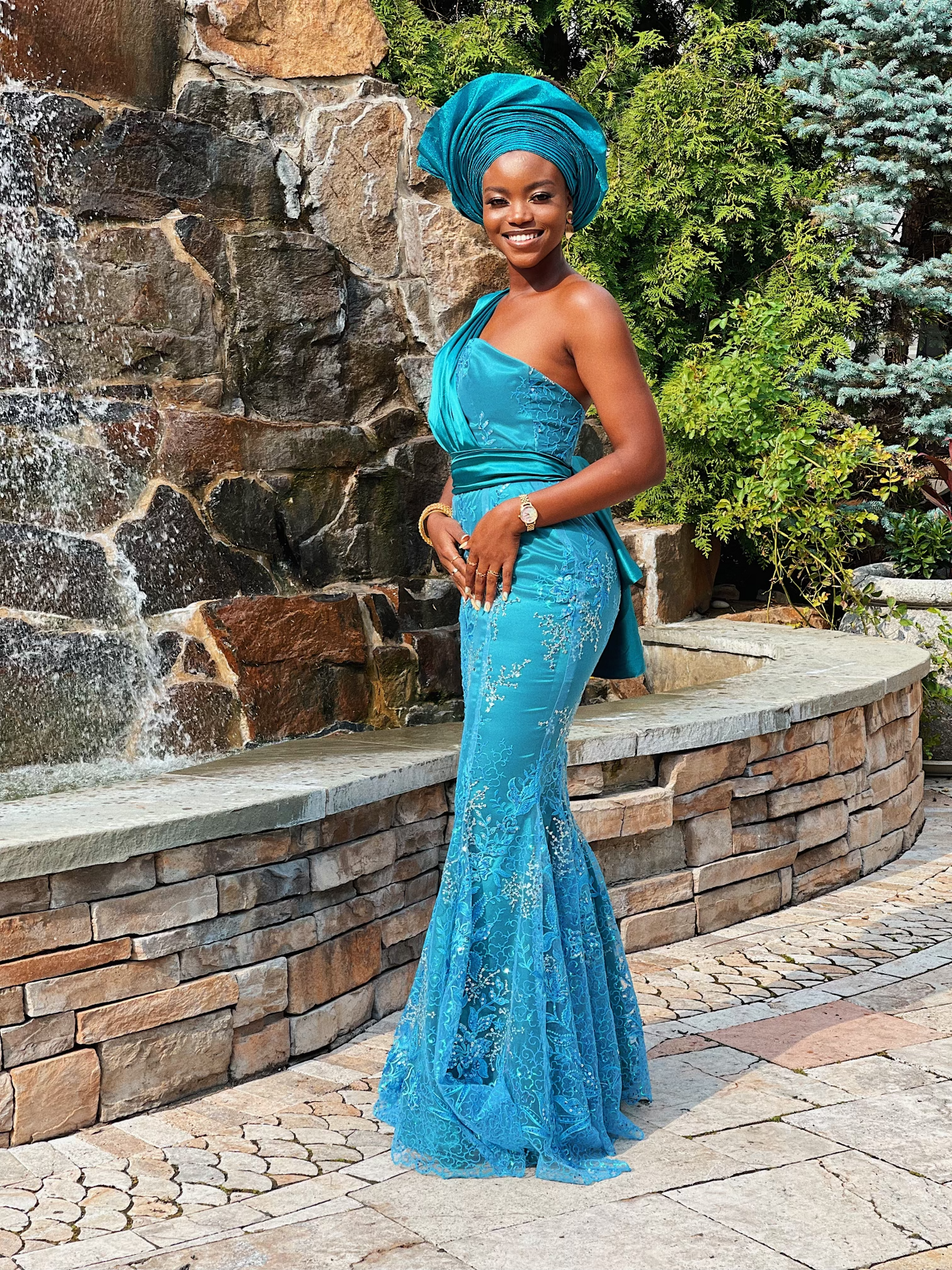 Welcome to the Je Suis Custom Experience
Thank you for considering Je Suis NYC by Senami Atinkpahoun for your next special occasion.

Our one-of-a-kind dresses are crafted with the utmost care and the finest materials. Whether you're looking for an exquisite evening gown or a stunning wedding dress, we offer tailored designs to suit your unique style.
Our evening gowns start at $500, while wedding gowns start at $3,500.

Kindly fill out the form below, and we'll work with you to create a personalized quote that meets your specific needs. Please note that prices may vary based on design, lead time, fabric, beading, and other factors.

Your custom garment experience will start with a one-on-one consultation with me! I will learn more about your vision and style preferences so that we can create your dream garment.

Book Appointment
Policy and Procedures
1. Consultations:
Clients will have up to one hour with Senami Atinkpahoun. Consultation fees include (1) sketch. If you want to reschedule the consultation date, it must be at least 48 hours in advance or pay an additional $25 rescheduling fee.
The consultation fee covers time sourcing for material & notions to make the custom garment. If you decided to proceed with booking Je Suis, then the consultation fee will be deducted from the total cost of the garment.
2. Reserve fee | Deposit Fee:
RESERVE CONSULTATION FEE​ ​$50 -This is our special consultation fee for prom only… The Reserve fee is non-refundable.
DEPOSIT FEE-
Clients will pay a 60% deposit fee of the total cost order prior to the first confirmed fitting. The deposit can be paid at the consultation
a. The deposit is non-refundable
b. Je Suis will not start on the order unless the deposit fee has been paid.
c. Only PAID deposits or in full are considered as a VALID ORDER.
3. Fittings:
Clients are entitled to two to three fittings located at the Je Suis home office ONLY.
a. Je Suis will not meet clients outside the place of business or studio hours for fittings.
b. Client is limited to two guests at each fitting. Children must be accompanied at all times by an adult.
c. Fittings can last up to 1-2 hours. During this time, Je Suis will make adjustments to the garment, clients can ask for minor changes if needed. Clients must pay 40% of the remaining balance at the last fitting. Clients will have to sign a separate agreement stating that they are pleased with the completed garment.
4. Appointments:
All appointments will be scheduled at least 2-6 months prior to the event.
○ Clients must cancel appointments 48 hours prior to the scheduled appointment if a conflict of time arises.
○ Please be aware of your arrival time. Note: The scheduled allotment of time will NOT be extended but will only last the remaining of that time.
5. Designs:
Once an order is placed, the fabric is purchased. Clients have 24 hours to change the design request or the design will be completed AS-IS.
6. Payments accepted:
Accepted forms of payment include cash, Venmo, Cash App, and Pay Pal. Invoices can be sent via email for payment.
7. Satisfaction with production.
No refunds on any custom-made orders.
Bridal Servces
Wedding Gowns

Walk down the aisle in a stunning Je Suis NYC wedding gown. Meticulously crafted with the finest materials and designed to make you feel confident and beautiful on your special day.

Bridesmaids Dresses

Elevate your bridal party with Je Suis NYC's stunning bridesmaids dresses. Designed to complement your wedding gown and provide your bridesmaids with a chic and comfortable look they will love.

Engagement Shoots

Capture the essence of your love story with Je Suis NYC's elegant and sophisticated designs. From flowing dresses to stylish separates, our outfits are perfect for your engagement shoot and will make memories that will last a lifetime.
Aso Ebi Styles

Make a statement with our unique and stunning Aso Ebi designs. Each piece is carefully crafted to elevate your style and make you stand out at any wedding.

Prom Dresses

Let us help you shine on your big night with our exquisite prom dresses. From classic to modern styles, we have the perfect dress to match your unique personality and make you feel like a star

Special Occasion Outfits

From red carpets to special events, our collection of special occasion outfits are designed to help you make a lasting impression. We offer a variety of styles and sizes to fit every body type, so you can feel confident and look your best.